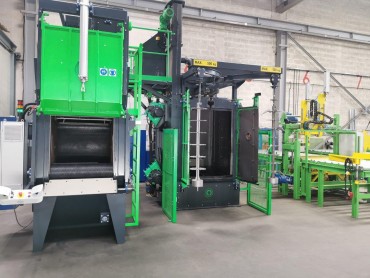 Siapro is one of the European leading manufacturers in
Shot Blasting and Peening equipment
, with a long history in design, manufacturing and commissioning of the machines.
We manufacture high quality
shot blasting machines.
Turbine shot blasting is the most economical method of removing rust, scaling, foundry sand, paint, clean the surface prior to coating, and more.
High productivity of shot blasting we achieve with our E-ECO shot blasting technology and the lates E-ECO CPMT technology.

Shot blasting with compressed air
is not so effective. Compared to the turbine blasting it has 10 times less impact.

We offer shot blasting machines for all  types of shot blasting.
Installation and maintenance of our shot blasting machines is very simple due to modern manufacturing technologies such as laser cutting, CNC bending, etc..simplified and cost-effective and competitive. SIAPRO offer:
Shot blasting wheel machines - Standard types
Shot blasting wheel machines - Custom made

Anti-Corrosion and Painting lines More info...
Machines for shot peening More info...
Dust collectors  More info...
Second hand Shot blasting machines More info...
E-ECO smart blast wheels are 100% manufactured in Slovenia in controlled production. With our E-ECO technology of shot blasting we achieve high productivity, efficiency and economical savings.

VIDEO project example-production of shotblasting machine and FAT test, machine 100% made in Slovenia

We can build-in E-ECO wheels in equipment of different producers of shot blasting machines.





QUESTIONNAIRES FOR OFFER

004_Questionnaire for Offer_Siapro_Shot_blast_Machines_ang_slo
(.doc 174KB)


KATALOGS

Shotblasting Machines General Broshure_A3
(.pdf 2.5MB)

Overhead Conveyor Siapro Shotblasting Machines_H
(.pdf 3.6MB)

Roller Conveyor Shotblasting Machines_R
(.pdf 751KB)

Tumbler Shotblasting Machines_T
(.pdf 4.8MB)

Table Shotblasting Machines_D
(.pdf 3.0MB)

Wire mesh belt Shotblasting Machines_W
(.pdf 587KB)


Robot Shotblasting Machines_RBB
(.pdf 587KB)


Shotblasting Machines fot tubes_RB
(.pdf 587KB)

Brochure E-ECO Blasting Technology, E-ECO Blasting Wheels
(.pdf 1.3MB)


Broshure AAD Valve for abrasive dosing_eng_srb (.pdf 848KB)


Brochure TRA 80 Basic Junior Superior KIT Solution Machine
(.pdf 1.4MB)


Brochure HA 1000x1400 Basic, Heavy Duty, Foundry Machine
(.pdf 1.3MB)


Brochure DA 1250x500 Basic, Heavy Duty, Foundry Machine
(.pdf 1.1MB)


A4_SIAPRO Shotblasting machines in Slovenia_supplier NO1 in home country_June_2022
Watch VIDEOS