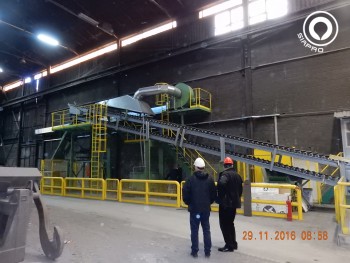 We offer engineering services and supply foundry equipment for the entire casting process:
the preparation of sand, foundry furnaces, casting and finishing, equipment to check the quality of castings. We integrate foundry equipment according to your specific requirements and depending on the required technology.
Our very good knowledge is achieved with long-term operation in the foundry industry and with implementation of reference projects.
We supply new and used foundry equipment. We provide servicing and maintenance of equipment and performing relocation of foundry equipment and complex systems (disassembly, assembly, and transport).
We own our Siapro brand and production, but we supply also foundry equipment of partner companies.
We are representative or partner with international known companies such as Arun, Pourtech, Sensor Control, etc..
QUIESTIONNARIES FOR OFFERS

Questionnaire for offer Continuous Mixer
(.pdf 128KB)


Questionnaire for offer No Bake Foundry System Requirements
(.pdf 52KB)


Quiestionnaire for offer Mechanical Sand Reclamation Questionnaire
(.pdf 66KB)
CATALOGUES


A4 Siapro_Foundry products_Continuous mixers, Mould and Material handling, Sand reclamation, Core machines_25_pages_A4_pdf_eng_2021

(.pdf 5.0MB)

Siapro Foundry Engineering
(.pdf 313KB)

Sand Coolers
(.pdf 417KB)

A4_Siapro Bentonite Sand Reclamation_ang_srb_2015_distribution
(.pdf 881KB)
VIDEOS
Send inquiry