E-ECO smart blast wheels  (CPMT)
100% manufactured in Slovenia, high quality, controlled production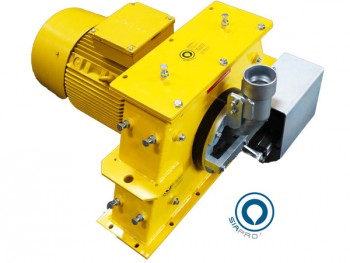 With
our E-ECO technology of shot blasting
we achieve high productivity, efficiency and economical savings. General advantages of E-ECO smart blasting wheels and E-ECO wheels:
production without stagnation
lower maintenance costs
lower stocks of spare parts.
Economical and technical advantages of E-ECO blasting wheels are:
Increase of abrasive velocity
Increased wear resistance
8 -10 times longer blades life time (27% reduced electrical consumption)
Minimum 10% lower abrasive consumption
Blasting capacity (increase in output) 10 - 30% better
Blast pattern designed to meet customer's old and new application
High throughput blast wheels and their fitment.
We can build-in E-ECO wheels in equipment of different producers of shot blasting machines. We cover all production of shot blasting with three dimensions of wheels.


NEW E-ECO Complete Process Monitoring Technology (CPMT)
This is revolutionary surface treatment technology.
The Unique system to integrate into your Machine or Production Line:

    Siapro Software development & Turbine E-ECO Superior Innovative Design
    Providing the highest demands of Shotblasting/Shotpeening/Mechanical Pickling
    Cases from practice: LTH, CIMOS, Akrapovič, companies in Russia etc.
    The latest E-ECO Superior Wheel and AAD Automatic abrasive dosing integrated into a Complete Process Monitoring
    Special for Heavy Duty Applications, Steel Works & Metal Coil Strips Cleaning
    Innovative Electrical Installations and Long Distance Observations
    Advanced PID regulation With Box Controlling Equipment
    The fastest option to communicate with the Machine
Send inquiry
CATALOGS

SIAPRO E-ECO Blasting technology
(.pdf 320KB)     
VIDEO