Robot Shotblasting Machine - 100% automation - Siapro Design and Manufacturing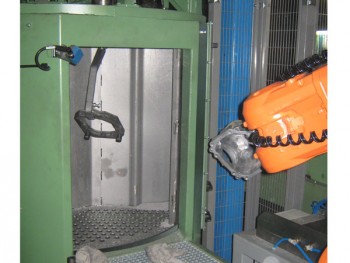 Machine is prepared for full 100% automation. For
robotic shotblasting
the machine is designed on the principle of satellites. The main feature of the table is turning the work piece to 3 working positions loading/unloading, first blasting and second blasting. Before the machine was upgraded a small trough in which the robot can turn work pieces and remove the abrasive from the work piece itself.
E- ECO Turbines for shot blasting, CPMT shot blasting Technology
The machine is equiped with turbines E- ECO. These turbines have concave blades. Special design allows minimal abrasive wear with simultaneous maximum transfer of energy from the motor to the abrasive. The most untypicaly is undoubtedly its wear resistance. Many years of research in the field of metallurgy led to the discovery of an extremely wear- resistant material. This discovery prolong the life of blades by 10 times. The E-ECO blade can withstand up to 10 times more than any other conventional blade. Our Complete Processs Monitoring Technology gives you the best results of shot blasting.
AAD Automatic Abrasive dosing
We have developed a new generation of sand dosing with linear stepper cylinder. This allows regulation of the flow of the abrasive. It si very easy to adjust the flow. The aim is to set the current constant.

Cataloge Robot Shotblasting for full automation RBB_400_ang_srb_2014_distribution

(.pdf 1.2MB)
VIDEO
Send inquiry