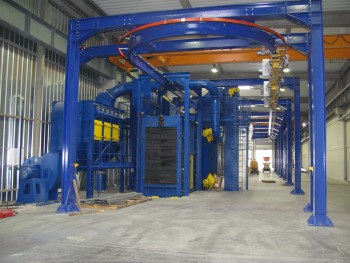 These shot blasting achines are suitable for pieces which can be hanged on hanging line.
Machines are suitable for  elements, such as castings, small objects, forged parts, grilles, and similar items that are in the process of sand blasting can be hung. Work pieces within the blast machine rotating and moving in a way that makes it possible to very effectively cleaned. The
shot blasting machines
are made ​​of solid manganese steel plates, shot blasting part are further protected by wear-resistant shields made ​​from manganese steel.
Our newly developed abrasive separators in various versions with or without magnetic separator ensure that the abrasive receives optimum cleaning and a high cleaning speed can be achieved.
T
he shot blasting machines are manufactured in accroding to the strictest European standards.
Thus, for example, emissions of dust from the filter below 3mg/m3. The machine has a built-in PLC control panel. In addition to the standard version The machine also offer sand blasting machines with hanging line tailored to customer requirements.
We offer standard and custom made shot blasting machines.





VIDEO
Send inquiry     


PHOTO GALLERY