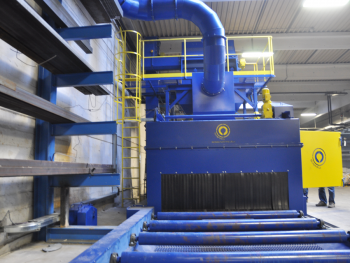 Roller conveyor shot blasting machines  are suitable for blasting plates, profiles, welded, pipes and other similar components.

Gallery shows a wide range of roller conveyor shot blasting machines with roller conveyor. Standard configurations of shot blasting machines and their characteristics are described in section Technical data.


Length of roller conveyor depends on customer requirements. Shot blasting machine for blasting plates and profiles can be equipped with side loading ramps, preheated chambers, scrubbers, with the chamber for painting or drying tunnel. The shot blasting machine is made of solid manganese steel plates. Blast part can be further protected by a wear-resistant shields made ​​from manganese steel. Working speed rollers during the process of blasting can be constantly updated. Innovative pressure washers provide high quality sand cleaning abrasive. The entire device is made in accordance with the strictest European standards.


We offer standard and custom made shot blasting machines for blasting plates and profiles.