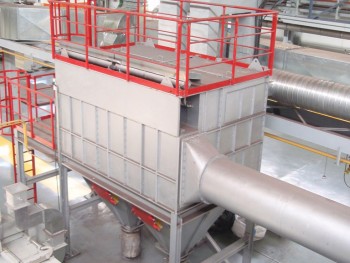 CDRH dust collectors are reverse jet (compressed air) cleaned tubular pleated cartridge filters, suitable for general dust extraction applications at ambient temperature.
We use cartridge filters or filtration and dust extraction in multiple industries
Description:
Polluted air enters the filter through a pre-chamber which enables separation of the biggest particles;
the flow then goes through the cartridges depositing the contaminants outside, while clean air is discarded for filter head. An electronic sequential cycle provides for cartridge cleaning with compressed air. The wide filtering surface of each cartridge allows a reduced volume of the equipment. This means that cartridge filter, unlike traditional bag filters, can be also inside arias near pollution sources.
Filters are designed for blasting machines, plasma cutters, welding fumes, cement, handling of dust, grinding, silo ventilation and other. Advantages: small sound emissions form 68-75 dBA depending on the model; different types of cartridges to choose from: Cellulose, Polyester, Teflon Polyester, Antistatic Polyester; Collection systems to choose form: Bin (standard), Drum, Star valve; Modularity from 1 to 48 cartridge filter 500 m³/h to 48.000 m³/h /; Large doors for maintenance purposes.

Advantages:

wide field of application
small emission - efficiency
low noise
modularity - different size
simple installation
simple maintenance
technical support and service, skilled technicians